By Shuyi Wang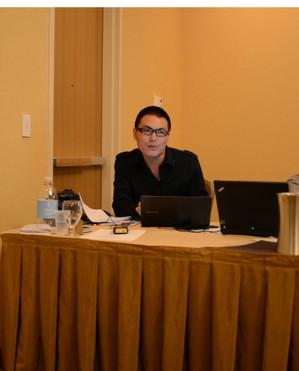 Weibo, China's version of Twitter, has become an essential tool for investigative reporters in China, said Ying Chan, journalism professor from the University of Hong Kong on the Saturday's panel "Investigative Reporting in China."
Chan cited the most discussed news in China recently to explain the power of Weibo.
China's government suspended three officials after they forced a young woman to abort her child seven months into the pregnancy. This happened just days after the family posted the mother's photo with the remains of the fetus.
"It was the most popular topic on Weibo. People are very angry about that," Chan said. " It has become a national conversation."
A post named "a letter from heaven by the 7-month-old fetus" on Weibo gathered more than 1.4 million people in its discussion.
The mother started her own Weibo account. About 54,000 people started to follow and communicate with her by posting comments.
"All conversations have a time code," Chan said.
Weibo is more visual and robust than Twitter, Chan added. It displays pictures without making readers click a link.
"You can attach a thousand word article by using a simple function to make it submit as an image," Chan said. "Reporters use this function to distribute long articles on Weibo."
Chan shared some facts about Internet usage in the country to show the power the web has in China.
As of Dec. 31, 2011 China has:
Internet users, 513 million (38% penetration)
Mobile access, 357 million (17.5% increase y-t-y)
Mobile only, 38% (2011)
Home access via broadband, 392 million (98.9%)
Mobile phones: one billion (Feb. 2012)
Largest phone and smartphone market
Even with the Internet empowering viewers, political reporting in China is under tight control and censorship.
Chen Meng, a senior investigative reporter and finance editor from The Time Weekly, discussed how the paper found its ways to cover Bo Xilai's story from a business angle.
"We started by drawing the family and business connections of Bo Xilai. We investigated the connections. The connections led us to some stories, " Chen said.
Public records outside of China, including company registries, land records and court records, are also used in the research.
The results of the investigation exposed the business ties of Bo's family. Bo Xiyong, Bo Xilai's brother, was the vice chairman of China Everbright International, a big holding company owned by the Chinese government.
"We cannot write about Bo Xilai. But we can write about his brother's business empire. We published a total of seven pages in three weeks," Chen said. "Our stories attracted nearly two hundred thousand comments online."
Photo and story by Shuyi Wang, a graduate student at Emerson College Department of Journalism.
Top photo: Chen Meng, senior reporter of The Time Weekly.