By Doug Haddix
IRE Training Director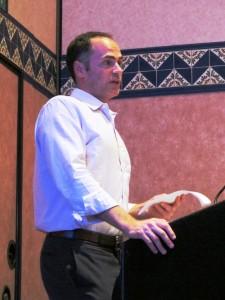 Full immersion in local immigrant communities produces the most compelling stories, according to Kirk Semple, an immigration reporter for The New York Times. "It helps to be curious. It helps to be voracious," Semple told participants at an IRE Better Watchdog Workshop this week in Orlando.
The full-day workshop was held in conjunction with the National Association of Hispanic Journalists' annual convention. Other speakers included Manny Garcia, executive editor of El Nuevo Herald in Miami, who recently was elected as the first Latino president of the IRE board of directors. Also speaking was Mc Nelly Torres, an IRE board member and associate director and reporter at the Florida Center for Investigative Reporting. Semple offered several types of immigration stories that reporters in any city can tackle:
Fallout of the Secure Communities federal-state program, which aims to deport undocumented immigrants.
Consequences of failing to enact the Dream Act, which would provide a path to legal residency for immigrant children who graduate from high school.
The impact on the ground of uneven immigration reform efforts and enforcement of immigration laws.
The local effect of stories overseas, such as the Japanese earthquake and tsunami.
The immigration angle of a big breaking news story, such as the arrest of International Monetary Fund head Dominique Strauss-Kahn, accused of sexually assaulting an immigrant woman working as a hotel maid.
Culture and assimilation of immigrants in communities across America.
Semple shared the frustration of many journalists in the audience in dealing with officials from the U.S. Immigration and Customs Enforcement agency and getting reliable, specific information. "They really frustrate me, and they know exactly what they're doing," Semple said. ICE routinely reassigns its public information officers, he said, making it tough to develop sources. Additional photos from the workshop are posted on the IRE_NICAR page on Facebook.