When I was a reporter at a daily newspaper in Virginia, few things frustrated me more than slow responses to Freedom of Information Act requests. I'd put in my request and wait the allotted response time only to receive a handful of excuses. Sometimes, after weeks of nagging, I'd get the documents. Other times my request was strangled to death by red tape.
FOIA statistics are grim. According to MuckRock, a public records request service, about 27 percent of requests go unfulfilled in the first three months.
But when agencies dig in their heels, reporters often have limited options: take officials to court, wait them out, or encourage them to act using the power of the pen.
Recently I found the Vancouver Sun's Chad Skelton using the latter.
On his blog, Skelton wrote in detail about his quest to get data from 110 public agencies for a public-sector salary database. Some responded on time. Others became candidates for "slowest government agency in B.C."
I asked Skelton to tell us more about his process. Here's what he had to say.
Q: What prompted you to write about the FOI process?
A: Like many news organizations, we've struggled over when we should write a story about not getting information – and are wary of boring our readers with too many "inside baseball" stories about agencies obstructing our requests or delays involved in getting the information we're looking for.
Since I started blogging in 2007, though, I've found my blog the perfect outlet for this kind of "how the sausage is made" type of content. I think it's important to let readers know when agencies aren't being as transparent as they claim, and to celebrate those who do a good job.
But by having it on the blog, instead of in the paper or on our homepage, the information is there for the (few) people who are interested in it without taking up valuable real estate. In the past, I've used my blog to let readers know about our difficulties in getting information or an agency's attempts to spin the news. A well-placed tweet about the post – including the Twitter username of the agency you're writing about – also lets them knows their bad behaviour has been noticed.
You mentioned it can help speed up the response process. Do you have any examples?
We've been doing our public-sector salary database for five years now and it's difficult to make apples-to-apples comparisons as, frankly, this is the first year that I've methodically tracked response times. But taking a look at the dates on spreadsheet files from last year, I'd estimate that by late January in 2013, we had about a dozen agencies that still hadn't provided us with their salary data – and a couple took well into February to get it to us. This year, only one agency hasn't sent us their data as of Jan. 24. And the two agencies that were particularly bad getting their data to us last year both met the Act's 30-day deadline this time.
Did you get any response to the posts from your slowpoke agencies?
One (the City of Vancouver) actually apologized for the delay via email and voicemail and said they'll do better next year. I'm sure some aren't happy at being singled out but they haven't complained to me directly.
Do you have any advice for folks who want to use FOI shaming on their own agencies?
I think the key, to be frank, is not the shaming but the complimenting.
As I noted, I've been complaining about bad agencies on my blog for years. What really changed this year, I think, is that I also started complimenting the good ones, too. It actually started somewhat by accident. I was working on a big series about auto crime and called up the media relations folks at ICBC (our public insurer) asking them for access to some of their auto crime data. I thought they'd send me to the FOI department but, to my surprise and delight, they agreed to give me the data I wanted voluntarily, without forcing me to go through the FOI process. They were also really patient with all my follow-up data requests.
ICBC was so helpful that, at the end of a long post on my blog introducing the auto-crime series, I thanked them for being so cooperative and transparent. I was amazed at what a response I got from that simple thank you. An ICBC employee came up to me at a conference and said my blog post was passed around the agency and up the chain to the executives. And, ever since, ICBC has bent over backwards to help me on any story I'm working on. My motivation for thanking ICBC was that I thought it was the right thing to do. But it also turned out to be strategically wise, as well.
Similarly, while you noticed my recent "shaming" blog post for public-sector salaries, in December I also identified the 46 agencies that got me their salary data early. That post got tweeted around by several folks, including by the association for B.C. municipalities (UBCM) which singled out two cities that got me their data the absolute fastest – both of which were flattered by the attention. I think being an FOI coordinator is a pretty thankless job and you get a lot of grief from people who aren't happy with what you're doing. Giving those who are doing their job particularly well a pat on the back buys you a surprising amount of goodwill. And, again, I think it's the right thing to do.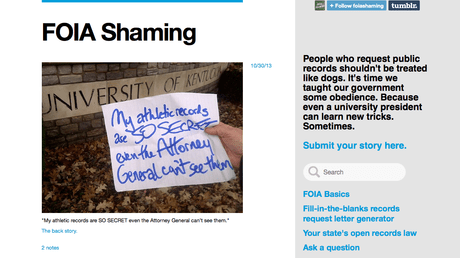 Skelton's experiences raise an interesting question. When it comes to "FOI slowpokes," is it more effective to praise or embarrass? It's easy to find examples of both.
Sara Gregory of the Student Press Law Center said the group's executive director, Frank LoMonte, thought of the viral online Dog Shaming blog when creating its journalistic counterpart: FOIA Shaming.
"Frank and I were brainstorming ways to essentially call out the worst of the worst at refusing to turn over public records," Gregory wrote in an email. "Access issues are one of the most common problems students call our legal hotline about, especially college student journalists. We thought that it just really shouldn't be that easy for schools to get away with denying requests for really routine, clearly public records."
Gregory said the blog is a visual variation on the message SPLC attorneys already share with students: write about your experiences on news and editorial pages.
"I don't think the Tumblr has helped anyone get records, unfortunately, but several of the cases illustrated did end with the records being released (often only after a court order like at Ohio State and the University of Maryland)," Gregory wrote. "In these instances, we just wanted to make sure they were memorialized somewhere."
---
Fighting a FOIA battle? Check out IRE's FOIA story pack. We have tipsheets and more to help you get an in-depth look at the ways journalists have fought for information, the obstacles they encountered along the way, and the ultimate success stories which show the power of the Freedom of Information Act.