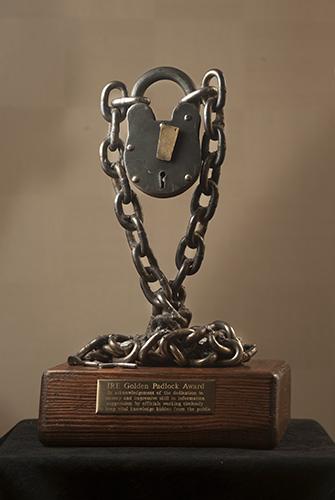 The Golden Padlock Award. Photo: Travis Hartman.
Investigative Reporters and Editors has named the U.S. Border Patrol as the winner of its first annual Golden Padlock Award recognizing a U.S. government agency or individual for unrelenting commitment to undermining the public's right to know.
The country's largest law-enforcement agency was chosen among dozens of nominations from journalists and the public for refusing to make public the details of use-of-force incidents involving its agents. Despite a string of fatal incidents over the past three years in which Mexicans have been shot and killed by agents along the Southwest border, the Border Patrol routinely refuses to disclose the names of agents involved. And it has repeatedly stonewalled FOIA requests on the incidents filed by the Arizona Republic because the cases remained under investigation by the FBI, sometimes for years.
"The U.S. Border Patrol's resounding silence on fatal shootings involving its agents epitomizes the kind of intransigence for which this award was created," said IRE president David Cay Johnston. "Accountability is an essential element of any public agency, but all the more so when its agents are empowered to fire weapons that kill. The Border Agency appears to have forgotten that duty."
The other finalists were:
JOBSOHIO: For creating a non-profit economic development agency exempt from public records disclosure laws and state audits despite being started with public funds and having access to $100 million in profits from the state liquor store monopoly.
NEW JERSEY TRANSIT: The country's largest state-operated transit agency is nominated for its response to reporters investigating $120 million in transit damage from Hurricane Sandy. The agency's response to an access request for the transit's hurricane preparedness plan produced a document entirely blacked out except for the title.
FULTON COUNTY, GEORGIA TAX COMMISSIONER: Arthur Ferdinand is nominated for a pattern of secrecy that served to shield his actions from public view including issuing a fee estimate of $16.2 million in response to a formal request for the county's tax system.
THE CENTERS FOR DISEASE CONTROL: The federal health agency is nominated for a pattern of refusing to assist with formal information requests for documents on lyme disease including releasing records in response to one request after 5 years, four months and 24 days.
The winner was announced at IRE's national conference in San Antonio. A representative from the U.S. Border Patrol was invited to receive the "honor" without response.
In addition to the Golden Padlock award, IRE also welcomed the Department of Justice and Attorney General Eric Holder into its "Hall of Shame" for the "Orwellian practice of monitoring journalists' phone records in pursuit of whistleblowers," the statement read. "The surveillance of journalists and their sources represents a chilling breach that threatens to undermine investigative reporting on matters of high public interest and deputize unwitting journalists into the work of law enforcement. The Justice Department's surreptitious seizing of reporter phone records at both the Associated Press and Fox News has earned condemnatory distinction."
Investigative Reporters and Editors, Inc. is a grassroots nonprofit organization dedicated to improving the quality of investigative reporting.
For further information, contact IRE Executive Director Mark Horvit at 573-882-1984 or mhorvit@ire.org. For a PDF version of this release, click here.