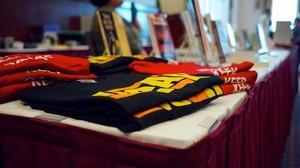 Voting is now open in the NICAR 2013 T-shirt contest.
We received more than 50 proposals for this year's T-shirt, so voting will happen in two rounds: An initial round with all the proposals, and a second round of five finalists to choose the T-shirt design for the 2013 conference. Click here to see the proposals again. Look through them, make note of your favorites and return to the top of the page to vote.
The first round of voting will be open through Sunday, Jan. 6. The final round will begin as soon as votes from the first round are counted.
In addition to bragging rights, the creator of the winning T gets a free shirt and $50 in the IRE Store. The winning design will be on sale at the 2013 CAR Conference in Louisville, future training events and the IRE store.