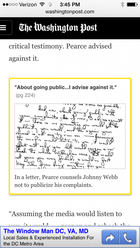 This post originally appeared on the DocumentCloud blog.
On Aug. 3, The Marshall Project, a new nonprofit journalism organization focused on criminal justice issues, published an investigation in partnership with The Washington Post that revealed new evidence raising doubts about a high-profile Texas execution.
Tom Meagher, data editor at The Marshall Project: Our reporter, Maurice Possley, began working on this story months before most of the rest of our newsroom at the Marshall Project was even hired. By the time we were able to start helping, the story was mostly reported, so we dove into the documents to bring ourselves up to speed.
The case against Cameron Todd Willingham — who was executed in Texas for the murder of his three daughters — had been written about extensively over the last 22 years, but a lot of new information was uncovered, and it was all in the documents. We knew we wanted to be able to explore and highlight the correspondence that cast this case in an entirely new light. DocumentCloud was clearly the answer.
Matt DeLong, national digital projects editor at The Washington Post: I started working on the story in earnest a couple of weeks before it published. We were very excited about having so many primary-source documents to enrich the narrative. The Post has been using DocumentCloud for years, but we've long been frustrated by one of its biggest limitations: it isn't mobile-friendly. This isn't really DocumentCloud's fault; these scanned documents are a set size, so when you scale them down, at some point words will become too small to read.
We had seen how the New York Times addressed the problem, by putting up the text and linking to the original document in DocumentCloud. That's totally logical and fine if the words are all that you care about, but in this case we have official letters and handwritten notes between the characters in the story. The pages themselves are interesting, and many readers will want to see them with their own eyes.
Click here to read the entire post.