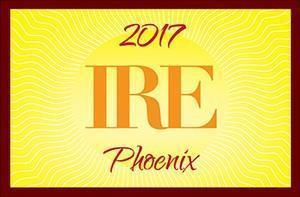 The 2017 IRE Conference begins on Thursday. Below you'll find a few bits of information to help you prepare for this great conference!
For the latest up-to-date information about panels, speakers and special events at the conference, please visit our conference website at https://www.ire.org/conferences/ire2017/.
Hotel Information
The conference is taking place at the JW Marriott Phoenix Desert Ridge, 5350 E. Marriott Drive, Phoenix, AZ 85054.
Thank you to Super Shuttle for offering a discount to attendees. Details on making reservations can be found here.
Registration
Registration opens Wednesday at 2 p.m. and will be available Thursday, Friday and Saturday in the 1st floor meeting space at the JW Marriott Desert Ridge.
Weather
It's going to be a hot week in Phoenix. Remember to stay hydrated throughout your visit. See the 10-day forecast thanks to weather.com.
Wireless Internet
Stop by the registration desk, check the mobile app or look for signs with the wireless access code available throughout the meeting space thanks to Raycom Media. In addition, attendees staying at the JW Marriott Desert Ridge in the group block will receive complimentary basic wireless Internet in their guest room. When logging in from your room, you will need to accept the charges; the hotel will credit these prior to checkout.
Have a question or need help in a session?
Room monitors will be stationed in the hallways during sessions and will be happy to answer your questions. Additionally, if you need something, email IREhelp@ire.org and IRE staff will respond as quickly as possible.
Recent updates and events you don't want to miss:
IRE Board Meeting
Thursday, June 22 at 2 p.m. in Wildflower A, located on the lobby level of the JW Marriott Phoenix Desert Ridge
This meeting is open to all IRE members.
Welcome reception sponsored by the Walter Cronkite School of Journalism and Mass Communication at Arizona State University
Thursday, June 22 at 6 p.m. in Grand Saguaro North & South
Kick off the conference with a welcome reception on Thursday night. Meet up with friends you have not seen since last year and welcome new attendees. Each attendee will receive one drink ticket for beer, wine, soda or bottled water.
Media lawyers brown bag
Friday, June 23 at 12:45 pm in Grand Canyon 9-10
Does your investigation contain complex legal questions? Unsure of how to proceed? Bring your lunch and your questions for a discussion with some prominent media law experts who will be presenting throughout the 2017 IRE Conference. We'll provide drinks and dessert.
The Diversity Dilemma (Hosted by CNN)
Friday, June 23 at 9 a.m. in Grand Sonoran E
Why is there a shortage of diversity among investigative journalists in the industry? What can be done about this dilemma? How do you find and develop more diversity: women and journalists of color? The importance of mentoring and innovative strategies and initiatives to ensure your newsroom is reflecting America at a time when it has never been more important.
Hosted by CNN with panelists:
Moderator: Ramon Escobar, VP Talent Recruiting & Development and VP, Diversity & Inclusion, CNN Worldwide
Panelists:
Cheryl W. Thompson, Investigative Reporter, The Washington Post and Associate Professor of Media and Public Affairs, George Washington University
Ron Nixon, Washington Correspondent, The New York Times
Bob Ortega, Investigative Reporter, CNN Investigates
Lex Haris, Executive Editor, CNN Investigates
Closing reception sponsored by CNN and IRE
Saturday, June 24 at 6:30 p.m. in Grand Saguaro South, East & West
Join us for a closing reception and enjoy one last evening of catching up with old and new friends, speakers and colleagues. Hors d' oeuvres and a cash bar will be available. Conference nametags are required for entry.
IRE Conference app replaces a printed program
You're tech-savvy and care about the environment, and so do we. Rather than printing 1,800 schedules, we're giving you two ways to track the full schedule of panels, hands-on sessions and special events with accurate, up to-the-minute details:
The full conference schedule on the IRE website has details organized by day.
Download the Guidebook mobile app for the 2017 IRE Conference on your smartphone or tablet. The app is available for iOS, Android and web-enabled devices. Then, create an account on the app so that you can enjoy all of its features and functions. Once you enable push notifications, you can receive updates from IRE throughout the conference. Have the latest schedule at your fingertips throughout the conference, check speaker bios, plan your own schedule, and keep up to date with any panel changes. You also have the option to network with other attendees and complete session/panel evaluations directly from the app (you will also receive a daily email with the evaluation if you prefer to complete it that way). Please be sure to complete evaluations, as these help us plan next year's conference.
Internet is not required for the app to work once it's downloaded. However, a connection is necessary to receive any updates sent by IRE.
If you feel most comfortable with a printed program, a few copies of the schedule will be available at the registration desk. You can also print out your own copies by scrolling down this page for a link. Please note: We won't be updating these printer-friendly versions with room, time or speaker changes. The mobile app and online schedule will always be up to date.
Conference Daily Update
Be sure to check the conference app (Day 1 news update) or your email for any last minute programming updates. A few paper copies will also be available at the registration desk.
Broadcast Show & Tell and one-on-one mentoring
Show & Tell sessions allow you to share your investigations with colleagues from around the country. Veteran broadcasters will moderate each session. Each slot runs for 15 minutes. Details on signing up can be found here.
One-on-one mentoring sessions will also be available during the conference with Barry Nash and Company. Get additional details and sign-up for Barry Nash and Company.
Twitter
Use #IRE17 during the conference and stop by the registration desk to see live tweets on the announcement monitor.
Special training
Be sure to check out the list of special sessions, social events and other activities taking place this week. Check out this full list here.
Contact IRE
We want everyone to have a great conference. If you have any concerns, run into any problems or need to contact a member of the IRE staff for any reason, we've set up several ways to reach us. Please remember that whether you're in a session, walking the hallway or hanging out at the bar, it's important to respect all of your fellow attendees. IRE and NICAR have long been known for our sense of community, and we should all be sure that everyone feels welcome.
Reach out by phone: 573-880-5473
Send a text: 573-880-5473
Send an email: IREhelp@ire.org
We thank you for your continued support and are looking forward to seeing you in Phoenix!