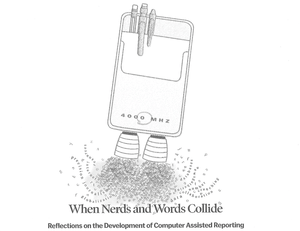 In 1999, Nora Paul organized a gathering at The Poynter Institute of a group of journalists who were on the cutting edge of computer-assisted reporting at the time.
The result was a short book titled "When Nerds and Words Collide," featuring chapters from many leaders in data-driven journalism. It also details the beginning of what is now the National Institute of Computer-Assisted Reporting.
1989 was a watershed moment for CAR, Paul writes, but a decade later progress on some fronts had stalled. The issues raised by these journalists nearly 15 years ago are many of the same ones facing journalists today:
Defining what we do in terms of objectives instead of tools, clarifying the vision and figuring out how to brand and sell it
Promoting social science principles into daily practice of journalism
Incorporating CAR into all beats
Getting buy-in from top editors and overcoming the cultural lag in the newsroom
Creating a structure to collect/analyze data and share it with reporters, making CAR tools easier to use for reporters
Rethinking education: What should we expect from new journalists?
Download the pdf from the IRE store.
Posted with permission from Nora Paul and The Poynter Institute.