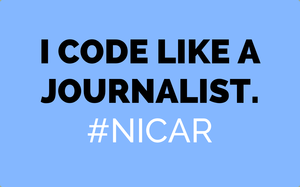 The votes are in and the 2015 NICAR T-shirt has been selected!
The winner is a blue T-shirt with "I CODE LIKE A JOURNALIST." The winning design comes from defending champion Jeremy Bowers of The New York Times.
Bowers' design will be on sale at the 2015 CAR Conference in Atlanta and the IRE store. In addition, Jeremy will receive $50 to use in the IRE Store and a free T-shirt.
Lena Groeger of ProPublica came in second place with her design featuring locations of past NICAR conferences. You'll be able to buy her design as a sticker.
Thanks to everyone who came up with designs and voted!