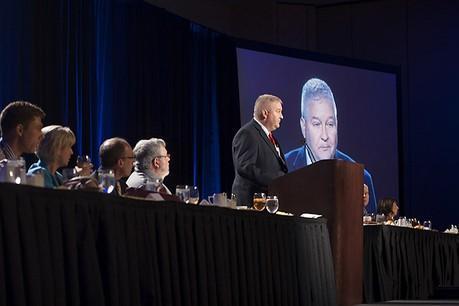 Andy Hall, of the Wisconsin CEnter for Investigative Journalism, addresses IRE members at the 2013 Awards Luncheon on June 22 in San Antonio. Photo by Travis Hartman
The Milwaukee Journal Sentinel and the Wisconsin State Journal report that Gov. Scott Walker has decided to veto a budget measure that would have forced the nonprofit Wisconsin Center for Investigative Journalism out of its location at the University of Wisconsin-Madison.
That decision follows an attempt by Wisconsin lawmakers that would have prevented the center from occupying any facilities owned or leased by the university. It also would have prevented any employee of the university system from performing any work related to the Center for Investigative Journalism as part of their employee duties. News of those efforts reverberated through the journalism industry as a cautionary tale for nonprofit news operations and collaborations with public institutions.
The dilemma became the focus of a panel at the annual IRE Conference in San Antonio less than two weeks ago, where Andy Hall, the director of the Wisconsin Center for Investigative Journalism, called on fellow IRE members for support. Previously, the IRE Board of Directors issued a statement calling for Wisconsin lawmakers to halt their actions against the center. Others speculated that the student newspaper at the University of Wisconsin could be in jeopardy. The news made headlines in Wired, Esquire, The Columbia Journalism Review and others in recent weeks.
According to a statement on the university's site, the Center is responding to the news with a campaign to increase funding for investigative reporting interns:
Today we're announcing the creation of the WCIJ Education Fund, to support our internship program in which students pursue investigative stories important to the people of Wisconsin. It costs about $25,000 to fully support an internship for one year

That translates to 100 contributions of $250 apiece. Support in any amount is appreciated.
University of Wisconsin-Madison professor Greg Downey also wrote a list of 10 lessons learned in the situation, including this sentiment about the news community that rallied around Wisconsin situation: "We found that the journalism community is more united by professional ethics than divided by partisan political-economic philosophy."