One in four of the more than 3,700 commercial motorcoach and passenger van companies regulated by the federal government has never received a full safety evaluation, according to an investigation by The Boston Globe. Nearly half have not been reviewed in more than two years.
Buses carry nearly as many people as airlines, but receive far less scrutiny. More than 170 people were killed in bus crashes from 2010 to early 2014, while no one died in commercial plane crashes on US carriers during that period.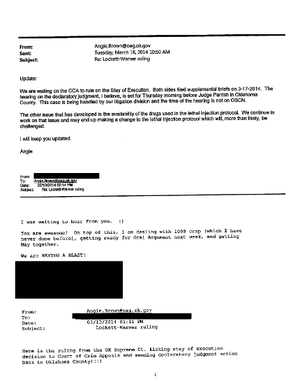 In the weeks leading up to a botched execution, an Oklahoma assistant attorney general referred to defense attorneys' warnings that the execution could go awry as "hysterical speculation," records released to the Tulsa World show.
Assistant Attorney General John Hadden also wrote in a March 21 email that he was "not eager to answer a bunch of questions" from reporters about the state's execution plans but worried about appearing "overly secretive."
Attorney General Scott Pruitt's office released more than 100 pages of emails to the World Friday following an Open Records Act request. The World requested all emails since March 1 regarding the execution of Lockett and Warner and development of the state's execution protocol.
The World's records requests to Fallin's office, DOC and the DPS all remain pending.
RELATED:
Eleven years of data analyzed by the Columbus Dispatch showed that those charged multiple times with operating a vehicle while impaired were able to get their charges reduced through a plea deal almost as often as those who had no recent drunk driving charges.
Some say repeat offenders know how to beat the system. Drivers can refuse to submit to a breath test if they are pulled over by police. In 2009, defendants refused chemical tests in 36 percent of the cases handled by city prosecutors. In 2013, it was 41 percent. Without the results of such tests, prosecutors lack a key piece of evidence.
An audit of the North Lee County Water Association in Mississippi turned up widespread financial management problems, including violations of several state and federal laws, the Daily Journal (Tupelo, MS) reports.
The audit, which is likely "the most rigorous examination ever" of the nonprofit cooperative's financial records, comes on the heels of a $1.2 million loan from the U.S. Department of Agriculture Rural Development Administration.
While copies of the audit are required to be available for public inspection, the water association did not comply with state law.
The association has been plagued with problems, according to the Daily Journal.
Rust-colored water and frequent boil notices have been part of North Lee's water quality problems for years. In October 2011, all board members resigned amid allegations of misconduct and falsifying water reports. Former North Lee manager Dan Durham pleaded guilty in federal court in 2012 to falsifying the water reports and received probation.
Read the story here.
Reports of scheduled ER visits raised a concern internally that some cardiologists might be using the emergency department to get the costs of uninsured patients' procedures covered, according to hospital correspondence. In some cases, the government's Medicaid program and private insurers will pay for procedures done via an emergency-room visit that wouldn't be covered otherwise, Bloomberg News reports.
The death of 16-year-old Amber Marie, who died when her 2005 Chevrolet Cobalt crashed the air bag failed to deploy, was an early warning in what would become a decade-long failure by G.M. and the National Highway Traffic Safety Administration to address a problem that engineers and regulators had been alerted to years ago.
For a resurgent General Motors, which has twice apologized, the recall is a major embarrassment as it tries to escape the shadow of its bankruptcy and government takeover. It has been sued, and now faces an investigation by the safety agency and the possibility of a criminal investigation, similar to the criminal inquiry Toyota is facing after recalls over the unintended acceleration of its vehicles.
An oil boom is underway at the Eagle Ford Shale in Karnes County, Texas, but the development is diminishing the quality of life of the inhabitants of the rural county and possibly endangering their health, according to reporting by the Center for Public Integrity, InsideClimate News and the Weather Channel.
Residents' complaints are going unaddressed and air quality monitoring is patchy. Though officials have said there is no cause for worry, experts say that the lack of monitoring and research into the health effects of pollutants has resulted in a poor understanding of how oil and gas development impact public health.
Compounding these weaknesses is the political backing of oil interests in the state with many industry regulatory officials doubling as its strongest supporters.
Wis. freeing more sex offenders from mental lockup | WisconsinWatch.org
Wisconsin officials have nearly quadrupled the number of offenders released from state custody after they were committed as sexually violent persons. The risks to residents are reasonable, officials say, because the state's treatment programs are working and new data suggest these offenders are less likely to reoffend than previously thought.
The story is the first part of "Rethinking Sex Offenders," a three-day series by the Wisconsin Center for Investigative Journalism and Wisconsin Public Radio.
Mass. children under state protection die from abuse with alarming frequency | The New England Center for Investigative Reporting
Kadyn Hancock's aunt said she repeatedly tried to warn state officials that the 13-month-old's mother might hurt him. But no one heeded her pleas and Kadyn's mother killed her baby in 2010. Last summer, child advocates questioned why social workers didn't remove three-month-old Chase Gideika from his troubled home before he was brutally killed, allegedly by his mother's boyfriend.
W. Va. environmental officials never saw Freedom's pollution control plans | The Charleston (W.Va.) Gazette
West Virginia Department of Environmental Protection officials never reviewed two key pollution-prevention plans for the Freedom Industries tank farm before the Jan. 9 chemical leak that contaminated drinking water for 300,000 residents, according to interviews and documents obtained under the state's public-records law.
Law on police accountability in custody deaths goes unused | The Milwaukee Journal Sentinel
Of the 18 deaths in law enforcement custody from 2008 through 2012 in Milwaukee County, 12 were classified as suicide or natural. Officials at every level have used those rulings to absolve themselves of responsibility for prisoners' deaths, a Milwaukee Journal Sentinel investigation found. In many cases, officials did not evaluate all of the circumstances surrounding the fatalities.
Fla. teens in trouble have decision to make: agree to time in a juvenile facility or roll the dice as an adult | The Florida-Times Union
The 4th Judicial Circuit, which consists of Duval, Clay and Nassau counties, dramatically leads the state in the number of juveniles incarcerated through a method called direct commitment. That's usually a plea deal reached between a juvenile's lawyer and the prosecutor. When juveniles agree to plea deals, they are often incarcerated without the chance to hear the evidence against them, examine police work or interview witnesses.
Law Doesn't End Revolving Door on Capitol Hill | The New York Times
The experiences of the three Capitol Hill aides-turned-lobbyists — traced through interviews with political operatives and a review of public records — illustrate in new detail the gaping holes in rules governing Washington's revolving door.
Federal ethics rules are intended to limit lobbying by former senior officials within one year after they leave the government. Yet even after the ethics rules were revised in 2007 following a lobbying scandal, more than 1,650 congressional aides have registered to lobby within a year of leaving Capitol Hill, according to an analysis by The New York Times of data from LegiStorm, an online database that tracks congressional staff members and lobbying. At least half of those departing aides, the analysis shows, faced no restrictions at all.
Two Navy divers, out of reach | The Virginian-Pilot
A Navy jury last month found that a master diver failed to make sure proper safety procedures were followed during a training exercise that left two men dead. The Pilot pieced together an account of the dive using court testimony, documents obtained through the Freedom of Information Act and interviews with unit members, witnesses and lawyers.
With their quaint barrel-like contours and weathered cedar-plank sides, rooftop water towers are a constant on the New York City skyline. And though they may look like relics of a past age, millions of residents get their drinking water from the tanks every day.
But inside these rustic-looking vessels, there are often thick layers of muddy sediment. Many have not been cleaned or inspected in years. And regulations governing water tanks are rarely enforced, an examination by The New York Times shows.
"West Virginia Department of Environmental Protection officials never reviewed two key pollution-prevention plans for the Freedom Industries tank farm before the Jan. 9 chemical leak that contaminated drinking water for 300,000 residents, according to interviews and documents obtained under the state's public-records law," The Charleston Gazette reports. Read the full story here.