More than 300 people banned from owning guns were able to buy them last year because the state police were overwhelmed with background check requests, police said Wednesday.
People with histories of mental illness or convictions for violent misdemeanors, felons and fugitives were able to obtain and keep guns for three months or longer before state police reviewed the sales, according to records released by request to The Baltimore Sun.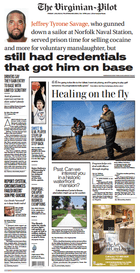 The Virginian-Pilot reports that investigators are trying to figure out how Jeffrey Tyrone Savage, a 35-year-old truck driver with a violent criminal record, accessed the Navy's largest base.
Savage Monday night climbed aboard the guided missile destroyer Mahan, disarmed a guard and used the weapon to kill a sailor who tried to intervene.
According to the Pilot:
"Savage had a valid Transportation Worker Identification Credential, commonly known as a TWIC card. The TWIC program was created by the Department of Homeland Security primarily to ensure security at civilian marine terminals, but the government ID can also be used to access military bases.
To get a TWIC card, a worker must provide personal information, including fingerprints, and pass a background check conducted by the Transportation Security Administration. More than 2 million people nationwide hold valid TWIC cards.
Some felonies disqualify applicants from receiving the security pass, but manslaughter is not listed among them. Savage's drug conviction might have disqualified him had it happened within the past seven years, according to TWIC guidelines."
Read the entire story here.
A New York Times investigation highlights a central, unresolved issue in the debate over balancing public safety and the Second Amendment right to bear arms: just how powerless law enforcement can be when it comes to keeping firearms out of the hands of people who are mentally ill. A vast majority of people with mental illnesses are not violent. But recent mass shootings — outside a Tucson supermarket in 2011, at a movie theater last year in Aurora, Colo., and at the Washington Navy Yard in September — have raised public awareness of the gray areas in the law. In each case, the gunman had been recognized as mentally disturbed but had never been barred from having firearms.
"USA TODAY examined FBI data -- which defines a mass killing as four or more victims -- as well as local police records and media reports to understand mass killings in America. They happen far more often than the government reports, and the circumstances of those killings -- the people who commit them, the weapons they use and the forces that motivate them -- are far more predictable than many might think."
Back Home: The Enduring Battles Facing Post-9/11 Veterans | News21
"In the 12 years since American troops first deployed to Afghanistan and Iraq, more than 2.6 million veterans have returned home to a country largely unprepared to meet their needs. The government that sent them to war has failed on many levels to fulfill its obligations to these veterans as demanded by Congress and promised by both Republican and Democratic administrations, a News21 investigation has found."
CIA Files Prove America Helped Saddam as He Gassed Iran | Foreign Policy
"The U.S. government may be considering military action in response to chemical strikes near Damascus. But a generation ago, America's military and intelligence communities knew about and did nothing to stop a series of nerve gas attacks far more devastating than anything Syria has seen,Foreign Policy has learned."
NSA Officers Spy on Love Interests | The Wall Street Journal
"National Security Agency officers on several occasions have channeled their agency's enormous eavesdropping power to spy on love interests, U.S. officials said. The practice isn't frequent — one official estimated a handful of cases in the last decade — but it's common enough to garner its own spycraft label: LOVEINT."
After West disaster, News study finds U.S. chemical safety data wrong about 90 percent | Dallas Morning News
"Even the best national data on chemical accidents is wrong nine times out of 10. A Dallas Morning News analysis of more than 750,000 federal records found pervasive inaccuracies and holes in data on chemical accidents, such as the one in West that killed 15 people and injured more than 300."
Minneapolis mayor's race lags in disclosing campaign contributions | The Star Tribune
"If candidates for mayor of Minneapolis were running in Boston, they would file a report online of their campaign contributions every two weeks for six months before the election. If they were running in Seattle? Once a week. And in a range of other cities with a mayoral election this fall, they would have shared their donor lists at least four months before voters go to the polls. Instead, contenders in the first open-seat race for Minneapolis mayor in 20 years have received contributions for as long as eight months without having to disclose a single detail to the public, and they won't release their first campaign finance reports until Sept. 3. Campaign-reform advocates and some candidates say that the system is outdated and that it lags the rest of the country, creating "data dumps" that hinder the public from learning the information in a meaningful, timely way."
Law enforcement can sell confiscated guns | Texas Tribune
"For decades, weapons confiscated by police in Texas were supposed to be repurposed for law enforcement use — or else destroyed. Starting next month, Texans will be able to purchase some of them instead."
Mexican drug cartel activity in U.S. said to be exaggerated in widely cited federal report | The Washington Post
"The number, widely reported by news organizations across the country, is misleading at best, according to U.S. law enforcement officials and drug policy analysts interviewed by The Washington Post. They said the number is inflated because it relied heavily on self-reporting by law enforcement agencies, not on documented criminal cases involving Mexican drug-trafficking organizations and cartels."
Kentucky budget cuts deprive poorer youth | Al Jazeera America
"These days, Terry, Newman and tens of thousands of other low-income Kentuckians feel under attack. Subsidies for child care and kinship care, the two state programs most central to their lives, which allow them to parent and prevent their fragile work routines from collapsing, were all but eliminated from this year's budget. Earlier this week, families rallied in Frankfort, the state capital, to protest the cuts."
Bounce-house rentals not all fun and games | Houston Chronicle
"As children's birthday parties ballooned into themed events and pricey productions in recent years, bounce houses became must-have entertainment for some parents. But as the bounce house rental business has grown locally, so have the number of unlicensed operators. At least 170 of these businesses advertise their services in the Houston region, but only 30 are actually licensed with safety inspections, based on a Houston Chronicle analysis of state records."
"For decades, weapons confiscated by police in Texas were supposed to be repurposed for law enforcement use — or else destroyed. Starting next month, Texans will be able to purchase some of them instead," according to a Texas Tribune report.
"(A Reno Gazette-Journal) report this week found that Washoe District Court in Reno did not send 179 names to the Department of Public Safety's database of people prohibited from possessing a gun. When the RGJ asked the department how many reports it had received from other courts in the state, the director said only 13 in the past year: five from Lyon County; five from White Pine County and three from Reno Municipal Court."
"No video. No audio. No transcripts. The Virginia Supreme Court operates in a total blackout. The Alexandria Gazette Packet exposes the shocking lack of transparency at the commonwealth's top court."
"Chicago Mayor Rahm Emanuel's new anti-gang strategy seems to be working, but it comes with a high price," according to an article from the Pulitzer Center on Crisis Reporting.
"It was just one scene in a city where gunfire has long been too common. In the first six months of this year, more than 1,000 people were shot in Chicago, according to a (Chicago) Tribune analysis."