$40-billion missile defense system proves unreliable | Los Angeles Times
The Ground-based Midcourse Defense system, or GMD, was supposed to protect Americans against a chilling new threat from "rogue states" such as North Korea and Iran. But a decade after it was declared operational, and after $40 billion in spending, the missile shield cannot be relied on, even in carefully scripted tests that are much less challenging than an actual attack would be, a Los Angeles Times investigation has found.
The Missile Defense Agency has conducted 16 tests of the system's ability to intercept a mock enemy warhead. It has failed in eight of them, government records show.
Nebraska prison doors open too soon | Omaha World-Herald
The examination of prison records revealed that Nebraska Department of Correctional Services officials had released or were set to release dozens of prisoners years before their sentences were supposed to end.
All told, state officials had carved at least 750 years off the collective sentences of more than 200 of the state's worst criminals. The problem: The department was using a formula that doesn't square with how sentences should be calculated.
After The World-Herald revealed its findings Friday to Corrections Director Michael Kenney, he immediately directed staff to recalculate the sentences. He said he had been unaware of the problem.
Friends want probe of 77-year-old's death after arrest | Springfield News-Leader
Branson residents are questioning why city police arrested a 77-year-old man with health problems on an Arkansas bad check warrant from 1996 and held him in jail for five days.
Shortly after his release from Taney County Jail, Evans E. Ray was found dead in his home. It's unclear how long he was deceased in the home before he was found.
Uncertified teachers in NY state classrooms | Press & Sun-Bulletin (Binghamton, N.Y.)
The New York State Education Department's most recent list of teachers whose credentials do not match their teaching assignments includes 4,280 assignments in more than 1,100 schools across the state, a Central New York Media Group review of state education records found.
While employing an unqualified teacher is a misdemeanor in New York, the state Education Department does almost nothing to crack down on instances where districts sidestep certification rules. The Education Department notifies school districts of instances where teachers may lack proper credentials, but its involvement ends there. Some school districts take action to fix the problem, and others do not.
Secret Summit: 24 hours with the Koch brothers | inewsource.org
Last weekend and into today, the billionaire Koch brothers and supporters converged on the St. Regis Monarch Beach Resort in Dana Point. This columned, luxury compound, little more than an hour north of San Diego, has 400 rooms, a spa, a golf course, a private beach and six restaurants. Staff confirmed the entire hotel — including food and beverage service — had been bought out for a special event.
An event so secret it had a code name on the schedule: "T&R Sales Meeting."
Hotel guests who weren't part of the conference — including two inewsource reporters who stayed the night Friday — were escorted out of the hotel by security on Saturday afternoon.
Kids with no vaccinations clustered in some schools | The Columbus Dispatch
Some Ohio schools might as well have a target painted on the side of the building as far as public-health experts are concerned.
In some schools in the state, as many as 1 in 3 incoming kindergartners and newly enrolled older students have parents who oppose vaccines, according to a Dispatch analysis of schools' immunization counts.
Bottom line is more than meets the eyes | The Virginian-Pilot
In one of the most recent releases, Medicare published data about payments to physicians and for outpatient services.
Dr. Alan Wagner's name stuck out.
According to the records, in 2012, he collected upward of $6 million from the government insurance for seniors, the second-highest amount among nearly 20,000 physicians and other individual providers listed in Virginia. Only a Richmond-based radiologist specializing in minimally invasive procedures ranked higher, receiving $8.2 million from Medicare.
St. Clair County doles out more than $3.3 million in settlements behind closed doors | News-Democrat (Belleville, IL)
More than $3.3 million in legal settlements have been approved behind closed doors in St. Clair County in the past 10 years -- possibly in violation of the state's Sunshine laws.
The settlements range from $900,000 to a teenage boy allegedly sexually abused at the county's Juvenile Detention Center to $1,000 to a person claiming injuries when placed under arrest by sheriff's deputies. The county admits no wrongdoing as part of the settlements. County officials released the settlements to the News-Democrat following a request through the Freedom of Information Act.
"More than $3.3 million in legal settlements have been approved behind closed doors in St. Clair County in the past 10 years -- possibly in violation of the state's Sunshine laws.
The settlements range from $900,000 to a teenage boy allegedly sexually abused at the county's Juvenile Detention Center to $1,000 to a person claiming injuries when placed under arrest by sheriff's deputies. The county admits no wrongdoing as part of the settlements. County officials released the settlements to the News-Democrat following a request through the Freedom of Information Act."
Read the full story from the Belleville News-Democrat here.
Hundreds of kids from poor families are pushed through the court system without legal counsel, according to The Guardian US.
The Southern Center for Human Rights found that in 2012 more than 680 kids went through the Cordele, Georgia circuit courts for juvenile offenses. And while a very small number had a private lawyer, only 52 had a public defender.
"That means that each year more than 600 kids under the age of 17 are effectively being thrown into the bearpit of the US criminal justice system and left to fend for themselves," The Guardian wrote.
The problem is so widespread that last year the American Bar Association passed a resolution denouncing the lack of a properly funded indigent defense service as a "national scandal". The federal system of indigent defense is also creaking. Last August the US attorney general, Eric Holder, warned of a "state of crisis" in legal representation for poor people and said that budget cuts forced by Congress had "decimated public defenders nationwide".
Read the story here.

Every year, the federal government makes thousands of requests for court-ordered electronic surveillance, often without a warrant. And long after the investigations that spawned them have ended, the vast majority of these legal proceedings are sealed indefinitely from public view—unlike nearly all other aspects of American judicial proceedings.
The Wall Street Journal surveyed 25 of the top federal district courts in the U.S. and found that most couldn't provide even basic data on the electronic-surveillance orders, which allow investigators to trace telephone calls, locate wireless phones and monitor Internet accounts. What data were available indicates a significant increase in location tracking and other high-tech surveillance methods—and a system in which more than 90% of the documents showing the government's legal reasoning are sealed from the public.
On the heels of its investigation, the Journal filed legal motions in federal court in Texas to unseal some of these applications and orders, arguing that the First Amendment grants the public the right to access court records, including hearing transcripts, docket sheets, and search-warrant applications, and that electronic surveillance orders should be no different.
To read the story, click here. To learn how the Journal evaluated sealed surveillance orders, visit the Law Blog.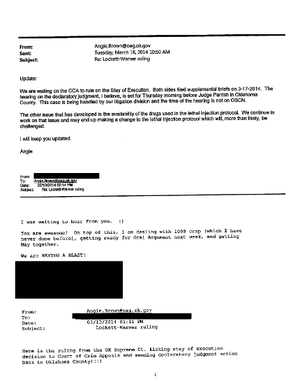 In the weeks leading up to a botched execution, an Oklahoma assistant attorney general referred to defense attorneys' warnings that the execution could go awry as "hysterical speculation," records released to the Tulsa World show.
Assistant Attorney General John Hadden also wrote in a March 21 email that he was "not eager to answer a bunch of questions" from reporters about the state's execution plans but worried about appearing "overly secretive."
Attorney General Scott Pruitt's office released more than 100 pages of emails to the World Friday following an Open Records Act request. The World requested all emails since March 1 regarding the execution of Lockett and Warner and development of the state's execution protocol.
The World's records requests to Fallin's office, DOC and the DPS all remain pending.
RELATED:
Eleven years of data analyzed by the Columbus Dispatch showed that those charged multiple times with operating a vehicle while impaired were able to get their charges reduced through a plea deal almost as often as those who had no recent drunk driving charges.
Some say repeat offenders know how to beat the system. Drivers can refuse to submit to a breath test if they are pulled over by police. In 2009, defendants refused chemical tests in 36 percent of the cases handled by city prosecutors. In 2013, it was 41 percent. Without the results of such tests, prosecutors lack a key piece of evidence.
In Knox County, Tennessee some students are ending up in jail even though they haven't committed any crimes. Federal and state laws are supposed to keep juveniles who have committed status offenses - like truancy or running away - out of jail. An investigation by the Center for Public Integrity has found evidence that Knox County courts may have broken the law by sending juveniles to jail without a valid court order.
Juveniles' rights to legal representation in these cases are not firmly established, and legal experts have argued that truant students are not getting the representation they need to protect themselves in court.
The 449 pages of court records obtained by The Desert Sun document evidence that convinced a 19-member grand jury to indict Robert Pape in the deaths of Rebecca "Becky" Friedli, her mother, Vicki Friedli and her mother's partner, Jon Hayward.
Becky Friedli's remains were found in the wheelbarrow. The shot, then burned remains of Vicki Friedli and Hayward were found in what was left of the torched house.
Read the full story from The Desert Sun here.
Clayton Lockett's death took nearly four times as long as most Oklahoma executions because a failed IV line started by a medical professional whose credentials remain secret under state law slowly leaked a drug combination that experts had warned could potentially be inhumane, a Tulsa World investigation has found.
When state officials realized what was happening, they technically halted Lockett's execution, but they had no backup drugs to restart the process. Unlike protocols in other death-penalty states, Oklahoma's policy contains few — if any — fail-safes or backup plans in case something goes wrong during an execution.
Read the full story from the Tulsa World here.
When Linda Wolicki-Gables and her husband appealed a lawsuit all the way to the second-highest court in the nation against Johnson & Johnson over a malfunctioning medication pump that had been implanted in her body, the couple had no idea that one of the judges who decided their case had a financial stake in the giant multinational company.
Eleventh U.S. Circuit Court of Appeals Judge James Hill owned as much as $100,000 in Johnson & Johnson stock when he and two other judges ruled against the Gables' appeal in the precedent-setting case.