$40-billion missile defense system proves unreliable | Los Angeles Times
The Ground-based Midcourse Defense system, or GMD, was supposed to protect Americans against a chilling new threat from "rogue states" such as North Korea and Iran. But a decade after it was declared operational, and after $40 billion in spending, the missile shield cannot be relied on, even in carefully scripted tests that are much less challenging than an actual attack would be, a Los Angeles Times investigation has found.
The Missile Defense Agency has conducted 16 tests of the system's ability to intercept a mock enemy warhead. It has failed in eight of them, government records show.
Nebraska prison doors open too soon | Omaha World-Herald
The examination of prison records revealed that Nebraska Department of Correctional Services officials had released or were set to release dozens of prisoners years before their sentences were supposed to end.
All told, state officials had carved at least 750 years off the collective sentences of more than 200 of the state's worst criminals. The problem: The department was using a formula that doesn't square with how sentences should be calculated.
After The World-Herald revealed its findings Friday to Corrections Director Michael Kenney, he immediately directed staff to recalculate the sentences. He said he had been unaware of the problem.
Friends want probe of 77-year-old's death after arrest | Springfield News-Leader
Branson residents are questioning why city police arrested a 77-year-old man with health problems on an Arkansas bad check warrant from 1996 and held him in jail for five days.
Shortly after his release from Taney County Jail, Evans E. Ray was found dead in his home. It's unclear how long he was deceased in the home before he was found.
Uncertified teachers in NY state classrooms | Press & Sun-Bulletin (Binghamton, N.Y.)
The New York State Education Department's most recent list of teachers whose credentials do not match their teaching assignments includes 4,280 assignments in more than 1,100 schools across the state, a Central New York Media Group review of state education records found.
While employing an unqualified teacher is a misdemeanor in New York, the state Education Department does almost nothing to crack down on instances where districts sidestep certification rules. The Education Department notifies school districts of instances where teachers may lack proper credentials, but its involvement ends there. Some school districts take action to fix the problem, and others do not.
Secret Summit: 24 hours with the Koch brothers | inewsource.org
Last weekend and into today, the billionaire Koch brothers and supporters converged on the St. Regis Monarch Beach Resort in Dana Point. This columned, luxury compound, little more than an hour north of San Diego, has 400 rooms, a spa, a golf course, a private beach and six restaurants. Staff confirmed the entire hotel — including food and beverage service — had been bought out for a special event.
An event so secret it had a code name on the schedule: "T&R Sales Meeting."
Hotel guests who weren't part of the conference — including two inewsource reporters who stayed the night Friday — were escorted out of the hotel by security on Saturday afternoon.
Kids with no vaccinations clustered in some schools | The Columbus Dispatch
Some Ohio schools might as well have a target painted on the side of the building as far as public-health experts are concerned.
In some schools in the state, as many as 1 in 3 incoming kindergartners and newly enrolled older students have parents who oppose vaccines, according to a Dispatch analysis of schools' immunization counts.
Bottom line is more than meets the eyes | The Virginian-Pilot
In one of the most recent releases, Medicare published data about payments to physicians and for outpatient services.
Dr. Alan Wagner's name stuck out.
According to the records, in 2012, he collected upward of $6 million from the government insurance for seniors, the second-highest amount among nearly 20,000 physicians and other individual providers listed in Virginia. Only a Richmond-based radiologist specializing in minimally invasive procedures ranked higher, receiving $8.2 million from Medicare.
St. Clair County doles out more than $3.3 million in settlements behind closed doors | News-Democrat (Belleville, IL)
More than $3.3 million in legal settlements have been approved behind closed doors in St. Clair County in the past 10 years -- possibly in violation of the state's Sunshine laws.
The settlements range from $900,000 to a teenage boy allegedly sexually abused at the county's Juvenile Detention Center to $1,000 to a person claiming injuries when placed under arrest by sheriff's deputies. The county admits no wrongdoing as part of the settlements. County officials released the settlements to the News-Democrat following a request through the Freedom of Information Act.
Executives and employees of the troubled Veterans Affairs health system enjoyed over $100 million in bonuses, according to the Asbury Park Press.
The federal government warned the VA in the past about the growing issue of excessive patient wait times and its detrimental effect on the health care system. Still, VA executives and employees received $108.7 million in bonuses over the course of three years.
Since 2005 more than a dozen reports have been released showing the negative impact of patient wait times at both the national and local levels. The VA said more than 57,000 veterans waited 90 days before seeing a doctor.
​Lawmakers in the House of Representatives Tuesday unanimously passed a measure that will suspend VA bonuses until 2016. Decorated war veteran Eric Shinseki resigned as Secretary of Veterans Affairs after the outbreak of this information, and the agency put a hold on employee bonuses for 2014.
The V-22 Osprey's deadliest accident stemmed partly from "undeniably intense" pressure to show progress for the new tilt-rotor aircraft, according to the U.S. Marine Corps commandant.
While the accident happened more than 13 years ago, the lessons cited in the December letter, obtained by Bloomberg News under the Freedom of Information Act, may apply to similar pressures the military is under today to prove the value of new weapons such as Lockheed Martin Corp. (LMT)'s F-35 fighter and the Navy's Littoral Combat Ship in a time of defense budget cuts.
Read the full story by Bloomberg News here.
At least 40 U.S. veterans died waiting for appointments at the Phoenix Veterans Affairs Health Care system, many of whom were placed on a secret waiting list.
The secret list was part of an elaborate scheme designed by Veterans Affairs managers in Phoenix who were trying to hide that 1,400 to 1,600 sick veterans were forced to wait months to see a doctor, according to a recently retired top VA doctor and several high-level sources.
For six months, CNN has been reporting on extended delays in health care appointments suffered by veterans across the country and who died while waiting for appointments and care. But the new revelations about the Phoenix VA are perhaps the most disturbing and striking to come to light thus far.
Read the story here.
United States Senate candidate and state senator Joni Ernst has cited her National Guard duty to rebuff criticism for missing more than half of the votes in the Iowa Senate this year.
In a WHO-TV interview posted on April 7, the Red Oak Republican acknowledged that National Guard service wasn't the only reason she's missed votes, but she said that only "a few of those votes were due to other activities."
However, a review by The Gazette (Cedar Rapids, IA) shows very little overlap between Iowa Senate votes and her National Guard service.
Read the story here.
In the decade after 9/11, the U.S. Department of Veterans Affairs paid $200 million to nearly 1,000 families in wrongful death cases, according to VA data obtained by The Center for Investigative Reporting.
In that time, CIR found the agency made wrongful death payments to nearly 1,000 grieving families, ranging from decorated Iraq War veterans who shot or hanged themselves after being turned away from mental health treatment, to Vietnam veterans whose cancerous tumors were identified but allowed to grow, to missed diagnoses, botched surgeries and fatal neglect of elderly veterans.
Read the story and view the interactive map.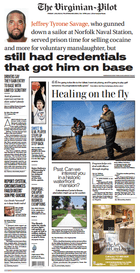 The Virginian-Pilot reports that investigators are trying to figure out how Jeffrey Tyrone Savage, a 35-year-old truck driver with a violent criminal record, accessed the Navy's largest base.
Savage Monday night climbed aboard the guided missile destroyer Mahan, disarmed a guard and used the weapon to kill a sailor who tried to intervene.
According to the Pilot:
"Savage had a valid Transportation Worker Identification Credential, commonly known as a TWIC card. The TWIC program was created by the Department of Homeland Security primarily to ensure security at civilian marine terminals, but the government ID can also be used to access military bases.
To get a TWIC card, a worker must provide personal information, including fingerprints, and pass a background check conducted by the Transportation Security Administration. More than 2 million people nationwide hold valid TWIC cards.
Some felonies disqualify applicants from receiving the security pass, but manslaughter is not listed among them. Savage's drug conviction might have disqualified him had it happened within the past seven years, according to TWIC guidelines."
Read the entire story here.
Since 2007, 28 Marines from the base in Twentynine Palms in southern San Bernardino County, Calif. have died in off-duty vehicle accidents, a rate higher than at other Marine Corps bases.
The Desert Sun examined each of these deaths during a yearlong investigation of non-hostile military fatalities in the desert. The paper analyzed thousands of pages of accident reports, autopsies and internal military reports, interviewed combat veterans, police and sheriff's deputies, scientists and doctors, and dozens of the many Marines and their families based at Twentynine Palms.
The story is part of a three-day series. Part two focuses on the 15 Marines who killed themselves on the base since 2007. Part three looks at post-traumatic stress disorder.
Project launch page | Part 1 | Part 2 | Part 3 | Interactive Map
Gene Vela was supposed to graduate in May with a master's degree in global policy studies. It would have been a milestone for Vela, who was among the first U.S. Marines involved in the initial invasion of Iraq.
Vela, 30, battled post-traumatic stress disorder in the Marines and after leaving the military, and his struggles have included run-ins with Austin police — for driving while intoxicated, among other interactions.
The Pentagon spends about $100 million a year to find men like World War II POW Arthur "Bud" Kelder, following the ethos of "leave no man behind," ProPublica reports. Yet it solves surprisingly few cases, hobbled by overlapping bureaucracy and a stubborn refusal to seize the full potential of modern forensic science. Last year, the military identified just 60 service members out of the about 83,000 Americans missing from World War II, Korea and Vietnam, around 45,000 of whom are considered recoverable.