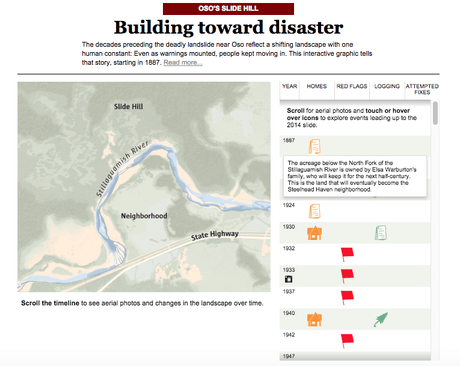 A graphic from the Seattle Times' coverage of the
Oso, Washington landslide
Does your newsroom have the data and resources it needs to cover the next big storm? With a little preparation, you can have detailed information on critical infrastructure - like dams and levees - ready to go the next time a hurricane or storm affects your community.
BEFORE THE STORM:
Get to know your data so you're ready whenever news breaks. Take a look at your city's emergency preparedness plans, infrastructure and other public safety measures. This way, when something happens, you won't be dependent on comments from city officials and can quickly add context to your stories.
DATA
National Inventory of Dams (NID) (available from NICAR): Use this data to find out which dams are in your coverage area, how big they are, who owns them, when they were last inspected and whether there is a plan in place for emergencies. Latitude and longitude are included, enabling you to map the dams and look for those closest to populated areas. Follow up with your state dam safety program to try and get the report from the last inspection, and find out whether a dam is considered "high-hazard," meaning likely to kill at least one person if it fails. Know which dams might be vulnerable in a big storm, and which are likely to have the most impact on residents. Use this NICAR-create guide to reporting on dams.
National Levee Database (NLD) (searchable on the U.S. Army Corps of Engineers website): While somewhat incomplete, this website can give you an idea of which levees are in place in your area, when they were last inspected and the rating results from those inspections. Levees, like dams, are critical infrastructure during storms.
TIPSHEETS
Measuring risk: From earthquakes to nuclear plants, how to investigate community preparedness: A reporter offers lessons from a 19-month investigation into the seismic safety of California's schools.
GIS and Tornado Sirens: A reporter walks you through how she used mapping techniques to report on Peoria County's preparedness for tornadoes after one hit South Pekin, a small village near Peoria, IL.
Putting It All Together: Breaking News and Disaster Coverage: Tips for preparing your newsroom to cover a disaster, including data sets to bookmark and resources for localizing your coverage using social media.
DURING THE STORM:
With a little homework, you can offer your audience play-by-play coverage of the storm as well as data- and document-driven reporting. We've gathered some tips for doing just that, as well as staying safe when you're out in the field.
TIPSHEETS
Investigating Breaking News: Tips on how to cover breaking news and websites to keep handy for coverage of a range of topics from aviation accidents to weather.
AUDIO
Lessons from the storm: What we can learn from the Moore, Okla. tornado – Journalists offer tips on reporting navigating the muddied, post-disaster chain of command and filing stories from the field.
EXAMPLES
A Deadly Slope: Examining the Oso, Washington, disaster (Seattle Times, 2014): Just a few days after a deadly landslide, The Seattle Times revealed how there had been a litany of warnings, going back seven decades. The story was the first in a string of exposés, in which The Times merged breaking news with investigative reporting to dissect the state's worst natural disaster since the eruption of Mount St. Helens.
AFTER THE STORM:
When the worst of the weather is over, it's time to start looking into how officials responded and if the plans in place worked. You'll also want to pay attention to disaster relief efforts at a local and national level. Here are some ideas, data sets and resources to get you started.
DATA
Small Business Administration's Disaster Loans (free for IRE members): These loans are available to businesses and homeowners with property damaged in a federally-declared disaster. Find out how much money was lent out in the wake of the disaster and who got the most. You can easily parse loans to businesses and use the SIC / NAICS code to find out what kind of business it is. For business loans, the data also indicate if the loan was paid in full or charged off. All records include the approval date and amount of the loan.
TIPSHEETS
Data Before and After a Disaster: Learn about different federal programs that provide financial assistance after a natural disaster, where to get their records and how to incorporate them into your stories.
Digging into Profits: IRS form 990: Get ready to check on charities. This tipsheet includes detailed descriptions of some of the more important parts of the form 990, including lines where you'll find useful information.
Documents and tools for investigating nonprofits: This tipsheet provides information for reporters looking to obtain data on non-profit organizations.
Investigating the Aftermath of Disasters: A look at how the South Florida Sun-Sentinel discovered and revealed $530 million in fraud and waste in FEMA disaster aid nationwide.
CAR after the disaster: FEMA, SBA and other data: A guide to investigating the government aid that generally follows large natural disasters.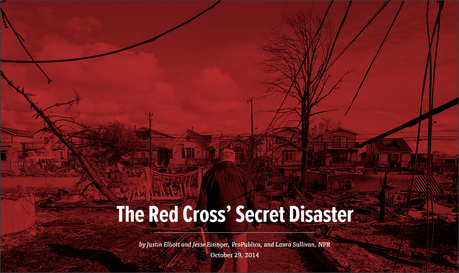 NPR and ProPublica investigated the Red Cross' response to Hurricane Sandy
EXAMPLES
Behind the Story: How NPR and ProPublica exposed problems with the Red Cross' response to Superstorm Sandy
Deathtrap (Oklahoma Watch, 2014): Two schools in an area of Oklahoma what was destroyed by a massive tornado were not properly designed or built, according to several experts to conducted a study for the American Society of Civil Engineers.
Austin Emergency Response Failures (KXAN-Austin, 2014): This series of investigative stories uncovered an overwhelmed 9-1-1 center staff during the deadly "Halloween Flood" of 2013 in Austin, Texas and triggered proposed changes to Austin's 9-1-1 system
Trashed Trailers (KUSA-Denver, 2014): Contaminated flood waters roared through Northern Colorado mobile home parks in September 2013. A six-month investigation spanning five counties discovered profiteers were sneaking mobile homes into new communities, fixing them up without proper building permits and safety inspections, and marketing them to unsuspecting families.
Landslide safety all over the map in Washington (KUOW and Earth Fix, 2014): The deadly Oso landslide in March sparked a debate over Snohomish County's apparent failure to protect residents at the base of a known landslide zone. But Washington state is dotted with landslide-prone slopes, and many counties and cities do less than Snohomish County to keep homes away from harm.
Guide compiled by IRE's Lauren Grandestaff, Sarah Hutchins and Liz Lucas