Training director Adam Rhodes reflects on their first NICAR on staff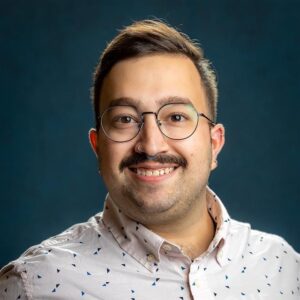 Hola everyone! I hope everyone got home safely from the 2023 NICAR Conference and you're ready to put what you learned to use.
If we didn't get a chance to meet in Nashville, I am Adam Rhodes, one of IRE's newer training directors. It was also my first NICAR on staff and my second overall. I couldn't have asked for a better behind-the-scenes look at what makes the conference (or data prom, depending on who you ask) so special. I wanted to share some of the moments that made it particularly memorable for me.
The first and most significant moment was the LGBTQ+ networking session that I hosted with IRE board member Josh Hinkle on the first night of the conference. It was the third time Josh and I had hosted the session, and each time the crowd gets bigger and better. I was awestruck at how many incredible journalists were in that room, so many that we spilled into the hall.
It was so crucial to hold that space for queer journalists like myself and Josh, especially given the escalating attacks on queer rights around the country, including in Tennessee. Speaking for myself, this session and the connections we all made during it felt like a shield from the world around us — in that room and within the conference, we could feel seen, understood and safe.
This networking session was all the more special with the presence of IRE's executive director Diana Fuentes. A testament to the organization's dedication to inclusivity, the executive committee of the IRE board of directors reaffirmed its commitment to LGBTQ+ support and safety in advance of the conference. I'm proud to be part of an organization "committed to serving and supporting all its members and maintaining a safe, discrimination-free organization where everyone can learn and be supported professionally."
NICAR23 had 962 attendees with 260 student registrations. It was amazing to see so many first-time attendees, too. If you went to the packed first-timers reception or the mentor breakfast, you know what I mean. Now I know why we had to keep refilling the first-timer ribbons during check-in! But jokes aside, in an era where journalism is under attack, all the new faces were a testament to the importance of data journalism and your commitment to it.
In addition to all the tried and true NICAR panels and hands-on classes, this year, U.S. Census Bureau Director Robert Santos, the first Latinx person to hold the position, joined us for a moderated conversation. We celebrated the 50th anniversary of Phil Meyer's seminal book, "Precision Journalism." And we heard from longtime NICARian Meredith Broussard about her new book on "Confronting Race, Gender, and Ability Bias in Tech." There was also a moment of silence to honor slain journalists Jeff German and Dylan Lyons, and we announced longtime NICAR instructors David Donald and Tom Torok would be inducted into the Ring of Honor at IRE23.
There's too much to highlight in this short recap, but I'll list a few more things that I loved about the conference in Nashville: the Journalists of Color networking session; the Knight Foundation x Wired Lounge; and the overflowing ballroom for Lightning Talks — some of my favorite talks taught us about the power of Bad Bunny lyrics, mapping an investigation through memes and proper typing posture.
Thank you to all the speakers, mentors and attendees for making NICAR23 a success. Congrats to the Philip Meyer Award winners and conference fellows. Thanks also to the NICAR23 regional planning committee, the exhibitors & recruiters and to our sponsors: ABC News; The Atlanta Journal-Constitution; Donald W. Reynolds Journalism Institute, University of Missouri; Google Trends; Knight Foundation; Lumina Foundation; The Paranoids at Yahoo; Reporters Committee for Freedom of the Press; Scripps Howard Fund; and The Tennessean in collaboration with the News Sentinel and the Commercial Appeal.
You all helped show this NICAR newbie just what keeps folks coming back to a conference about data every year, and I can't wait to see how Baltimore tops this one. Gracias por todo, and see you all at the 2023 IRE Conference in Orlando!
---
NICAR23 evaluations
Please be sure to fill out the conference evaluations — found in your inbox or through the conference app, Guidebook. We read each and every one and use the info to help us plan future conferences and events. Thank you for taking the time to do so!
NICAR23 tipsheets
Speakers, if you haven't yet shared your tipsheets and other class materials, please email them to tipsheets@ire.org. You can find what we've gathered so far here.
NICAR23 photos
Conference photos taken by IRE editorial director Doug Meigs can be found in this album.
NICAR23 swag
Did you forget to pick up the winning T-shirt? Want a coffee cup to remember your time in Nashville? We've got you covered. Check out the NICAR23 swag shop in IRE's Shopify store.
Save the date(s)
IRE23 will be in Orlando June 22-25 this year and we'd love to see you again! We'll be online for IRE's all-virtual conference, AccessFest, October 12-14 (more details and registration coming soon). NICAR24 will be in Baltimore, March 7-10. Make sure you're signed up for our biweekly newsletter, Quick Hits, to receive the latest IRE news about conferences, training and other opportunities.
NICAR24 pitch form now open
Did NICAR23 spark an idea? Share your thoughts via our open call for NICAR24 pitches.