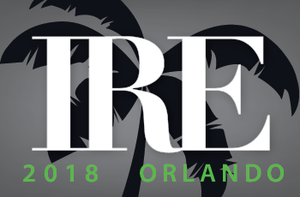 The 2018 IRE Conference begins Thursday. Below you'll find a few bits of information to help you prepare for this great conference! For the latest up-to-date information about panels, speakers and special events at the conference, please visit our conference website.
Hotel Information
The conference is taking place at the Renaissance Orlando at SeaWorld, 6677 Sea Harbor Drive, Orlando, FL 32821.
Registration
Registration opens Wednesday at 2 p.m. and will be available Thursday, Friday and Saturday in the 1st floor meeting space at the Renaissance Orlando at SeaWorld.
Weather
It's going to be a typical June in Orlando: warm and rainy. See the 10-day forecast thanks to weather.com.
Wireless Internet
Stop by the registration desk, check the mobile app or look for signs with the wireless access code available throughout the meeting space. Thanks to Raycom Media for sponsoring the wireless internet this year.
I-Ride Trolley Tickets
All registered conference attendees will receive a 3-day I-Ride trolley pass when they pick up their name tag at registration. The I-Ride trolley has different routes in the International Drive tourist district -- offering easy transportation to restaurants, shopping and nightlife. A map of routes can be found here.
Have a question or need help in a session?
Room monitors will be stationed in the hallways during sessions and will be happy to answer your questions.
IRE Conference app
(Thanks to Advance Local for sponsoring the app this year)
You're tech-savvy and care about the environment, and so do we. Rather than printing 1,800 schedules, we're giving you three ways to track the full schedule of panels, hands-on classes and special events with accurate, up-to-the-minute details:
The full conference schedule on the IRE website has details organized by day.
A printable schedule is available for you to download before you
arrive at the conference. A CSV is also available. A FedEx office is available onsite if you want to print after you arrive.
Download the Guidebook mobile app for the 2018 IRE Conference on your smartphone or tablet. The app is available for iOS, Android and web-enabled devices. Then, create an account on the app so you can enjoy all of its features and functions. Once you enable push notifications, you can receive updates from IRE throughout the conference. Have the latest schedule at your fingertips throughout the event, check speaker bios, plan your own schedule, and keep current with any panel changes. You also have the option to network with other attendees and complete session/panel evaluations directly from the app (you will also receive a daily email with the evaluation if you prefer to complete it that way). Please be sure to complete evaluations, as these help us plan next year's conference.
Internet is not required for the app to work once it's downloaded. However, a connection is necessary to receive any updates sent by IRE.
Conference Daily Update
Be sure to check the conference app (Day 1 news update) or your email for any last-minute programming updates.
Broadcast Show & Tell and one-on-one mentoring
Show & Tell sessions allow you to share your investigations with colleagues from around the country. Veteran broadcasters will moderate each session. Each slot runs for 15 minutes. One-on-one mentoring sessions will also be available during the conference with Al Tompkins and Barry Nash and Company. Learn more and sign-up for any of these broadcast options here.
Twitter
Tweeting from the conference? Use #IRE18 to follow the action.
Special training
Be sure to check out the list of special sessions and other activities organized by our partners.
Updated IRE Principles (Code of Conduct)
Investigative Reporters & Editors is committed to providing a friendly, safe and welcoming environment for all, regardless of gender, ethnicity, sexual orientation, physical ability, age, appearance or religion.
IRE supports vigorous debate and welcomes disagreement, while maintaining a civil and respectful community.
IRE may take any action it deems appropriate to deal with those who violate our principles, including exclusion from our events, forums, listservs and the organization itself.
Anyone who feels threatened or in immediate jeopardy during an IRE event should call building security in Orlando by calling 0 from a house phone or local police by dialing 911.
Additional concerns can be brought to the attention of IRE staff or board members in person. Contact information for both staff and board members can also be found on IRE's website.
Recent updates and events you don't want to miss:
IRE Board Meeting
Thursday, June 14 at 2 p.m. in Zander, located on the 2nd floor
This meeting is open to all IRE members.
Welcome reception sponsored by Google News Initiative
Thursday, June 14 at 6 p.m. in the Atrium
Kick off the conference with a welcome reception on Thursday night. Meet up with friends you have not seen since last year and welcome new attendees. Each attendee will receive one drink ticket for beer, wine, soda or bottled water.
Media lawyers brown bag sponsored by TEGNA Foundation
Friday, June 15 at 12:45 p.m. in Oceans 4
Does your investigation contain complex legal questions? Unsure of how to proceed? Bring your lunch and your questions for a discussion with some prominent media law experts who will be presenting throughout the 2018 IRE Conference. We'll provide drinks and dessert.
IRE Board of Directors candidate forum
Friday, June 15 at 6:15 p.m. in Oceans 5-8
Meet the candidates for the IRE Board of Directors at 6:15 p.m. in Oceans 5-8, located on the 1st floor of the Renaissance Orlando at SeaWorld following the afternoon Showcase Panel.
IRE Membership Meeting
Saturday, June 16 at 5:30 p.m. in Oceans 9-12
IRE Executive Director Doug Haddix and IRE Board President Matt Goldberg will hold an informational meeting and provide "The State of IRE" report for all IRE members at 5:30 p.m. in Oceans 9-12, located on the 1st floor of the Renaissance Orlando at SeaWorld.
Closing reception
Saturday, June 16 at 6:30 p.m. in the Atrium
Join us for a closing reception and enjoy one last evening of catching up with old and new friends, speakers and colleagues. Hors d' oeuvres and a cash bar will be available. Conference name tags are required for entry.
We thank you for your continued support and are looking forward to seeing you in Orlando!